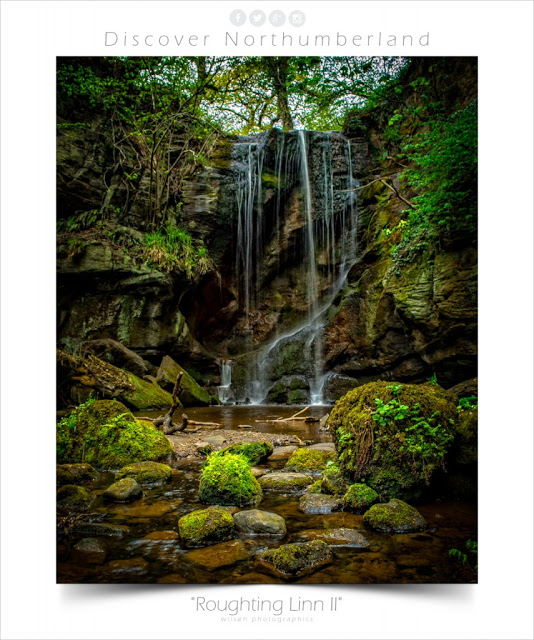 Following publication of our " Roughting Linn II " image we've had many requests asking "How do I get to Roughting Linn".
Google Maps seems to show the wrong location, some 5 miles off, so we've put together this short post to get you there. It's somewhat hard to describe once you leave the B roads but here we go ….
(as always there are many alternate routes)
Roughting Linn – How to get there …
Head into Northumberland and get onto the B6525 Northbound at Doddington, after approx 10-12 Kilometres you'll come to a crossroads with a white house on the right, turn left. Go to (3)
Alternatively get on to the A1 North and exit onto the B6353 for Fenwick, proceed through Fenwick and Lowick, when you pass the entrance to the Barmoor Castle Country Park, stay on the road and will change to the B6525. I around 400m pass a farm on the right, a further 400m should bring you to a crossroads with a white house on the left, turn right.
You REALLY need to refer to the Google map below here.
Proceed down this road until you pass a large wood on the right, then it is present on both sides. When the wood on the left disappears you will be at a crossroads (in the centre of the Google map below), turn left and there is space here to park several cars on the verge.
Walk back to the crossroads, cross to the other side and proceed down the track for around 50 metres where you should find a small track heading off to the left, if you can hear the waterfall you've gone too far.
Follow this track down into the gulley and round to the right, like a horseshoe, and you should come to the burn.
Follow the burn to the waterfall.
Bingo
** As always, be careful as it is a track and not a footpath, the rocks can be slippery and if it's been raining a lot then the falls could be in full spate.
N.B. While you're there you can take a look at the Neolithic rock art. Back up to the track, cross over and look for the flat rocky area.
Map …
That was the way we did it.
Relevant Links